"The world would be a better place if there were more harpists in it, especially ones who create thoughtful, enjoyable albums of original and interpretive material like this one."
J. Eric Smith, Metroland Magazine 2001 Picks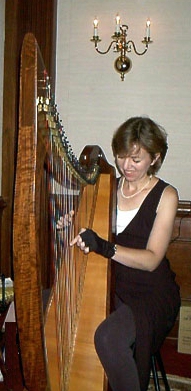 .
At a CDWA holiday dinner
Photo by TR Laz

``It may be the memory of my celtic blood, or the romance of Shakespeare's sonnet, but regardless of personal bias Donna Adams-Profeta's celtic harp is a secret weapon in a sea of spoken word. With a number of Top 10 pieces this New York artist defines a delightful poetic niche that will pull you in and keep you listening through the day and long into the good night.''
Sue Braiden, VOXine Vol. 1, Issue 1, CBC Radio Canada

``This gentle, romantic performer lives in the province of the truly gifted spokenword artists, part of a husband-wife duo that works exceedingly well.''
Sue Braiden, VOXine Vol. 1, Issue 2, CBC Radio Canada

``Braveheart would have washed his face and come dancing if he'd heard the dulcet tones of Profeta's lilting harp.''
snap.com review
.
``With it's simple musical arrangements, Donna's compositions offer a calm and peaceful experience. Listeners making their foray into the magical music of the harp for the first time should try her album.''
Abhay Adhikari, 'The Pulse' section of 'The Pioneer' newspaper, New Delhi, India
.