Donna's Art Gallery
Once upon a time (...now there's an original opening), I used to do animal portraits and nature paintings. It's been a number of years now since I hung up my triple-0 brushes, but in '98 I framed a piece of art (see owl below) and it seemed a shame that most of these paintings were just sitting around the house, some on the walls and some in boxes. In any case, I decided to put them where at least a few interested people could catch a glimpse of them.
Why did I stop painting? Well, partially for the same reason that I've had to revamp my harp playing about 3 times... namely, muscle spasms in my neck and shoulders and lower back problems. Of the two activities, painting is the more painful, and admittedly, harping gives me a kind of instant gratification that I can't get with a 40-hour dog portrait. However, of late, I've been bitten by the bug now and again and have had an urge to paint. I'd love to combine my 2 loves and use music to inspire my visual art or vice-versa...if I can just come up with a new technique that's comfortable for me.
In any case, feel free to browse. Check back again from time to time, as I'll probably be adding an item here and there. Who knows? I might even do a portrait of my little Feist dog, Lacy, some time.


.
Commissioned Animal Portraits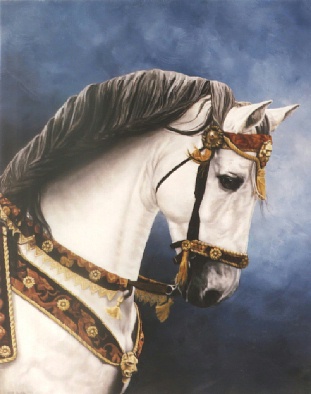 Destinado Dacio, 24'' x 20'', Oils and acrylic on canvas.
I was temporarily pulled out of retirement several years back, and commissioned to paint one of the most beautiful horses that has ever graced a dressage arena. 'Destinado' is an Andalusian owned by Tina Veder-Cristiani of Caballos de los Cristiani in Upstate NY. When asked if I would paint him, I told Tina to inspire me. One look at the photo of him in his Baroque attire and I was utterly entranced! Destinado is truly an inspiration.
.

German Shepherd Dog, 24'' x 18'', acrylic on canvas.
Alas, it has been many years since I painted this lovely German Shepherd Dog, and I no longer recall his name. He did, however, give me the best compliment I could have received. Upon accepting the painting, his owner pretended to pet it and the shepherd immediately tried to attack it! Fortunately, it was out of reach...but if it could fool him....
.

Just Because...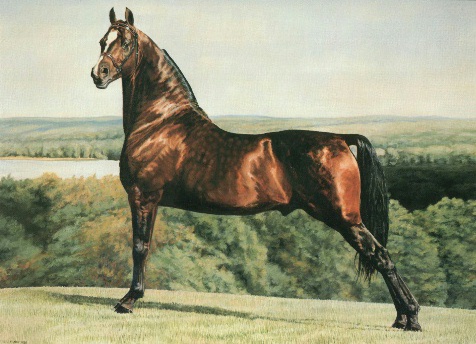 Magnificent Morgan - "Waseeka's Showtime" (1988) 18" x 24", acrylic on canvas from photo by Jan Lynick
I wanted to have something impressive to show prospective horse owners in order to obtain portrait commissions and I chose Jan Lynick's gorgeous photo of the incomparable Waseeka's Showtime for a full-body shot. He won World Champion Stallion on his one and only outing at the Grand Nationals and was no doubt something to behold in action!

Nature Painting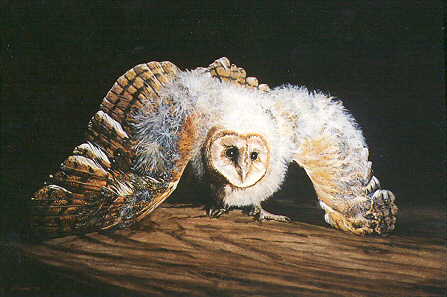 Baby Barn Owl, (197?-1994) 13-5/8'' x 20'', acrylic on illustration board.

This baby barn owl took 20 some odd years to complete! Actually, I started it as a wing study back in the mid 70's and fortunately left enough illustration board to add on the rest when the mood took me. I completed about 95% of it, but didn't finish the poor bird's right wing. There it sat until 1994, when I finally put on the finishing touches and signed it. It wasn't until July '98 that I took it to get framed and I didn't get it back until September. It's been a long wait, but it's finally done!


For Sale: Lions and Zebras and More, Oh my!
*Crossing Paths, 20'' x 30'', framed acrylic on canvas. $240.00

Back in my college days, I did a series of paintings with superimposed lions and zebras, along with the study of a little baby zebra (below). They're basically done in a zillion washes, rather like water colors.

*Striped Pajamas, 18'' x 18'', framed acrylic on canvas. $140.00
---
And now for something a bit different...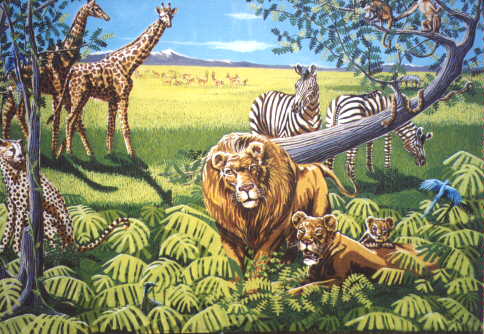 *Afrique, 25'' x 36'', framed acrylic on canvas. $280.00
This canvas was commissioned by a silk screen company down on Long Island, who asked me to come up with a jungle scene to a specified size, using up to 28 colors, and executed in a paint-by-number style. I did so, but then the company told me that their large screening equipment was broken and they wanted to cut it in two and do two smaller print runs. At that point we parted company. On well...
For ordering information send mail.
*Note: these are rather old and have some signs of aging on the back of the canvas.
.

.
Well, that's it for now. Hope you enjoyed your little gallery stroll. If you have any comments or would like more information, feel free to send mail, or visit my harp page.
To see a cool dog, Click Here. To see the memorial page for my little Morgan mare, Shasta, Click Here.

© 1999-2011, Donna L. Profeta, all rights reserved.
Created 6/5/99. Updated: 3/26/11