In Memory
.
**Molly's Place**
.
*NOTE: While the layout has been updated, the text hasn't been rewritten since Molly's passing.
ALL ABOUT MOLLY ACTIVITIES MOLLY AS ART COOL STUFF MISCELLANEOUS DEDICATIONS


.
Molly Mae...
Left: At 4 years old and a handful! Right: Just to blow away the idea that the Bull Terrier breeds can't get along with
other dogs, here's a shot of Molly and our dearly departed little cocker, Cindy, that more or less speaks for itself...


Initially, our little Pitbull was a dirvish in a dog suit, but she finally calmed down a peg or two and became a useful member of society. Admittedly, she still needed some work (distracted is her middle name), but we came a long way.
After 2-1/2 years of training, Molly earned her CGC (Canine Good Citizen) and TDI (Therapy Dog International) designations and had been doing biweekly visits to a local nursing home since from '98 to 2000. The more we went the more people were drawn to her sweet demeanor. I still find it amazing how quiet and well behaved she was around the residents. In almost any other setting, her energy levels soar and she can still be a bit much at times. But at the home, she toned down and seemed to respond to the sense of quietude. Every time we went she made another friend and her established acquaintances were even happier to see her than the last time. I made a point of having her wear a different doggy T-shirt for each visit. Her friends looked forward to seeing what she wore from one visit to the next. She also has a couple of decorative collars for special occasions.
Unfortunately just after she turned 6, she suddenly developed arthritis and about a month later had the first of 7 grand mal epileptic seizures, before her Potassium Bromide medication (thankfully) got it under control. She's also on thyroid medication (Soloxine) as her tests showed her to be borderline hypothyroid. Due to lethargy and some other side-effects from the meds, I regretfully discontinued her visits and Molly's officially retired from TDI. We were also hiking and had been working on carting (see under activities), but the arthritis sidelined her in these 2 activities as well.
Molly's 12 now and is pretty much the couch potato. Due to her profound water consumption over the past 6 years (up to 7(!) quarts a day when she had urine infections), we recently had to switch her from her Canidae Senior onto the Hill's ZD Utra hypoallergenic diet (I'm still not thrilled with the nasty preservatives...), but she seems to be responding and her drinking habits are approaching normal. If we can also get her to eat well again, I'll be a happy camper!
*NOTE: we tried going all-raw at one point and discovered that something was interfering with her thyroid meds (Soloxine), which caused a nasty loss of muscle control and tremors. According to noted canine epilepsy authority and raw food proponent, Dr. Jean Dodds, dogs on Potassium Bromide often have gastric problems that interfere with absorbtion and apparently something wasn't being absorbed that was affecting her thyroid and/or thyroid meds(?). Whatever the cause, she's back on her regular meat/kibble protocol. Guess it doesn't work for every dog...
For more information on canine epilepsy and related see: Canine Epilepsy Resources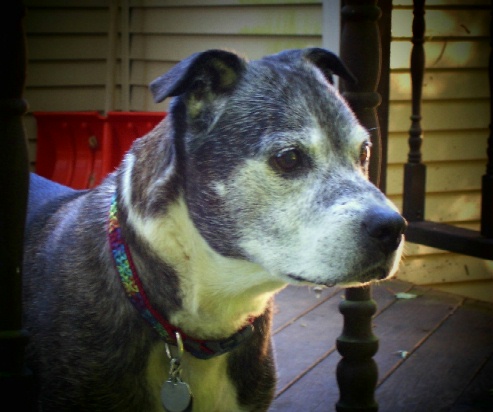 Molly at 12. The epilepsy meds have aged her, but she's still a beautiful girl.
---
ACTIVITIES
LURE COURSING!!! I love it because it's one of the very few organized activities I can think of that lets the dogs have fun with a minimum of handler's interference. Actually I'd been involved in coursing with my Afghan years ago, while living on Long Island, and she naturally adored it, but our little Cocker had just as much fun and Molly gave the sighthounds a run for their money at a demo. Unfortunately, there isn't any group doing anything in the NY Capital District, so we haven't been able to enjoy it since.
And here's some pics of our last obsession...CARTING!!! We adapted a little red Radio-Flyer, used 1/2" conduit for shafts and a singletree, rope for traces, jerryrigged a tracking harness and added a couple of blue pads from a horse halter to give it a try. And, amazingly enough, it works! Molly and I started off a bit unsure of ourselves, but after that I could barely keep up with her. I eventually got her a real tracking harness from Dog Works, out in Pennsylvania. It worked much better and made it a breeze to hitch and unhitch. I'd hoped to procure a dog sulky and go for drives, but the arthritis and epilepsy meds nixed that idea. If you've got a dog with more energy than he/she knows what to do with, carting is a great outlet...and it can be done inexpensively too.
My original rig certainly wasn't the prettiest, but it served it's purpose.

| | |
| --- | --- |
| | |
And here she is in her real carting harness from
'Dog Works'.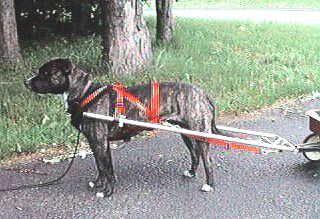 Digital art from a photo by a local pet photographer
I've done graphics work for years, but never spent much time messing with photos until now. Hmmm....these would be cool on a mug or T-shirt, wouldn't they?

Pitbull Pin

Here's a picture of what I consider to be the best Pitbull PR item available. I wear mine everywhere and I've sent a number of people Bev's way to get theirs. A great idea for you Pitbull rescue folk to wear and/or hand out at adoption clinics.

To order (or inquire about other breeds) send e-mail to cushmaniac@aol.com

If you'd like to find out more about Molly, or have any comments, feel free to send mail.

To find out what I do between my day job and all my doggie activities, click here. You'll never guess...

In memory of Shasta, a lovely Morgan mare, click here. A poem written for three canine companions (Shenan, Kelly and Cindy) and Shasta is posted there. If you've lost a special companion, I hope you find comfort in it.

And, don't forget to check out my Art Gallery Site. There's a lovely German Shepherd Dog portrait, among others.
.

This page is dedicated with love to Cindy, Luke and all those that came before them
.
Cindy Lu & Luke
...Princess, Joey, Ginger, Honey, Shenan & Kelly

© 2009, Donna L. Profeta, all rights reserved.
updated: 2/11/09