.
.
**Lacy's Place**
(For optimal viewing, click on maximum frame)
.
ALL ABOUT LACY ACTIVITIES MORE PHOTOS FEIST LINKS MISCELLANEOUS DEDICATIONS








Lacy Belle...
so much in such a little package!

- Above portraits provided by The Country Studio -









.
ALL ABOUT LACY

My husband and I had just lost our beautiful Pit-girl, Molly, to cancer ( hemangiosarcoma ) and couldn't stand having an empty house, so I glued myself to the computer and tracked down every dog within my search criteria (smallish, shorthaired, female). The only likely candidate was a skinny, little, year old, terrier/beagle/? mix named Lady, at Angel Paws Rescue Haven, in Gloversville, NY.

She was smaller than we'd planned on and rather bony, as the picture shows, weighing in at a mere 10.4 lbs.
And she'd apparently never been on a leash or had much socialization, but in the end she snagged us and we

took her home. In keeping with what's become an unplanned tradition, we named her something close to her foster name...in this case "Lady" became "Lacy." And, to reflect her southern origins (yet another unplanned tradition), we added on "Belle."

In just 3 weeks time, we got her up to 13 lbs. and had to back off considerably on the food. We were used to feeding a 50 to 70 pound dogs, so using a 2-Tbsp coffee scoop took some getting used to.

Trek from Tennessee...

Lacy was shipped up from Newport, Tennessee, shortly before we adopted her. Apparently her people turned her and several other dogs in to the shelter, because "they kept having puppies." Hmmm.... Anyway, that's no longer a problem.

Feisty Lacy!

On adoption day: So thin...
The first week we had her, everybody was trying to figure out what kind of mix Lacy was. Terrier and Beagle were pretty much agreed on, although whether it was Jack Russel or what, we weren't sure. Some folks thought there was Dachshund in there, but I was inclined to go with Whippet or Italian Greyhound. Then I stopped in at a local pet shop and, when I mentioned that she was from Tennessee, the salesgirl said she was from there as well and that Lacy was most likely a Feist (squirrel dog). After doing some research, I'm inclined to agree.
Depending on who you read, Feists are either a) from Rat Terriers, b) were here 200 years before the Rat Terrier, c) are synonymous with Rat Terriers or d) are from and/or mixed with Native American stock (Countryside & Small Stock Journal, Vol. 91, # 6, Nov/Dec 2007). In any case, Beagle has often been bred in to enhance their noses and Whippet or Italian Greyhound have been added for speed. There's been no indication of Dachshund blood in the mix.
Lacy prefers to be "in the bed" rather than "on the bed."

Man...it's COLD up here!!!
.
I'm sure it never occurred to our little bundle of joy that she'd be leaving the balmy temps of Tennessee to wind up in Upstate NY in the middle of winter. Brrrrr!!! On her first day with us, the poor thing had to sit through about 20 coat fittings before we found something that worked and she was none too pleased to go out during the first freezing rain.

Fortunately, she adapted fairly readily, but she did spend a considerable amount of time sleeping in her faux-shearling "cave." I originally intended it to be a bed to sleep "on, " but she much prefers to be curled up "in" it...like most Italian Greyhounds. That's since transferred to her other bedding as well, whether it's in her crate or a blanket on her bed.
Rubber Baby Buggy Bedder?
Well, it turns out that when it comes to toys and (initially) bedding...true to her terrier heritage...Lacy's a shredder. Anything that's not good quality hard rubber is doomed to be destroyed...and even some of those don't make it. So it occurred to me that if hard rubber toys stand up to her, then what about a rubber bed? I ran down to our local pet/feed supply and, sure enough, they had a lovely Duraflex 6-1/2 gallon, black rubber feed tub that she fit in (they let her try it on for size)...for under $10 yet! It measures 17-1/2" in diameter by 8-1/2" high, and as long as her bedding was in the tub, she pretty much left it alone. Then it dawned on me to get another smaller rubber tub for her toys, so even if they don't exactly go with my living room decor, at least they match each other. Plus...washing and sterilizing them is a piece of cake and I can use the tubs for bathing as well!

She's no longer a bed shredder and has a couple of nice ones around the house, but the tub still comes in handy for various things.

As far as toys go, the Premier Busy Buddy line have stood up quite well (her favorites are the Squirrel Dude and Bouncy Bone) and the Ruff Wear TurnUp and vanilla-infused Dogzilla dumbbell also have Lacy's seal of approval.

THE BEST TOY, however, is a large 6" long, multicolored "jack" (lower right pic) that has shown nary a scratch in the many years in which we've had it. Unfortunately, I have no idea where we got it and it has no identifying marks. Maybe someone out there has a clue? I'd LOVE to know where it came from.

NOTE: I did have concerns about the rubber tub out-gassing, but I didn't seem to have any other choice. She destroyed toys that stood up to my pitbull and pit/lab mix (together!!!) and I couldn't afford to keep replacing her bedding. Apparently the Premier and RuffWear natural rubber toys don't out-gas, so that's one less thing to worry about.

Multi-use rubber feed tubs.
All cuddled up.
Tough Toy Extraordinaire!!!

.


.
.
ACTIVITIES

No...we won't be doing any squirrel hunting, although I can't stop her from chasing anything that happens into the fenced yard. Heaven help them if she catches one! If her stuffed toys are any indication, there won't be much left but a puff of gray fur!

It turns out that Lacy has some structural issues (a very slight case of popped hocks) that most likely will prevent us from doing truly serious agility, but she finally got enough obedience under her belt (and our vet's blessing) to give it a go and we're having a blast (more on that below)!!! We would LOVE to train in some Musical Freestyle as well, if we could find a class. We tried lure coursing once (I couldn't believe there was an event practically right in our back yard!), but she ran about 20 feet, turned around and came scampering back. That's the only lure coursing event within any kind of reasonable proximity, so we probably won't get another chance if they don't come back. Earthdog activities also seem to take place in far-flung places. Another thing that's caught my interest is training her to do equine-like dressage maneuvers, like half-pass or shoulder-in, etc. They're wonderful suppling exercises that would be quite useful for carting....if we can ever find a mini harness and wagon.


.

.

Did someone say squirrel???

Obedience: At this point she's been through several rounds of Open obedience training, and she enjoys the advanced Utility stuff we've been working on, like scent articles (finally something her Beagle nose is good for!) and directed jumping. Unfortunately, while we did get to participate in a 4-week mini session of Utility training, it isn't something that's normally offered at the training club, so we're stuck working on our own for the most part.


Lacy Belle TG1, CGC, CL1-H, CL1-F

Agility: We've also now worked our way up to the Novice Agility class, and we're both having a BLAST!!! We have had problems with the teeter ever since a teacher insisted on retraining last year, using contact behaviors (like half on/half off), to prevent any possible over-jumping of the contacts, and it messed up her little head. She became hesitant and then started crawling across and eventually began baling off. Then...another dog jumped on the high end while she was traversing it and sent her flying!! We were toast after that for a while. So...I finally broke down and bought her a teeter and I believe we're making some progress. As long as I can get her running over the teeter again the way she used to, I'll be happy. With her, I'm definitely of the mind: "if it ain't broke, don't fix it!" Prior to the teeter debacle, she took 1st place in all 4 classes in her first TDAA trial in 2010 (3 games and 1 standard), thereby earning her first agility title in Games!

We finally did a CPE trial on 6/3/12 and she would've had 3 Q's (and possibly 3 firsts), but I messed up and did 2 of the obstacles in backwards order in the Colors class. That killed me! It was by far the easiest class we entered. But she did Q and earn 2 firsts in Wildcard and Jumpers. Fortunately, there were no teeters...

Since then we've earned our Level 1 CPE titles in Handlers and Fun games. We were entered in the Stockade CPE Trial in early June '13, but ended up cancelling due to a possible UTI and her urine was too dilute. I didn't want to chance running her in the heat and I was having neck/back problems besides. Better luck next time...and maybe we'll be better prepared as well. We weren't able to schedule any classes prior to the trial, and were woefully unfamiliar with the 2 Strategy games we were entered in. On the plus side, she's back to enjoying the teeter!

Therapy Dog: We did pass our therapy dog test, under the auspices of Therapy Dog International (TDI) and had started visiting, but unfortunately, I read that it was possible for therapy pets to pick up things like MRSA and transmit it. My husband had nearly died of a MRSA infection, so I just couldn't take the chance and retired her after only a few visits. It's really a shame, but ya gotta do what ya gotta do... We'd worked out a bunch of tricks that could be done in small spaces, and I wanted to put that to some use, so we're joining other SDTC members for occasional demos at assisted living centers. There, we don't go from room to room and I just need to wipe her down once with a disinfectant, when we're finished. In spite of being in close quarters with lots of other dogs, she's managing to perform well and enjoy herself.

Canine Freestyle: Performing a routine to music is probably the thing she's best suited for, but there's really nothing happening in our area of Upstate NY, so I just keep teaching her whatever I can and I do hope to put a little routine together for possible use at an assisted living demo. Videos of some top notch Freestylers are below. Tina Humphrey and Chandi's Dressage routine is my absolute favorite...gives me chills every time I watch it!

Tina Humphrey & Chandi - Dressage routine
http://www.youtube.com/watch?v=sknEaZHHbhc

Mary Ray & (?) - Riverdance routine
http://www.youtube.com/watch?v=4d-og0lKeso&feature=PlayList&p=6A3DBD9012AD3975&index=10

Richard Curtis & Disco - Ring of Fire routine
http://www.youtube.com/watch?v=K25vh8ip7Sc&feature=fvw

Carolyn Scott & Rookie - from "Gotta Dance" (2 routines)
http://www.youtube.com/watch?v=NutzSiRpYBc&feature=related

Mary Ray & Levi with Richard Curtis & Pogo (later in routine)
http://www.youtube.com/watch?v=w40YII4W_lQ&feature=related

Brace routine: The Clock Maker's Marionettes
http://www.caninehorizons.com/Marionette.html

Edward Gal & Moorlands Totilas in their record-breaking Musical Kur
http://www.youtube.com/watch?v=G9N9pGRUhSE
This last video is actually of a young stallion that was taking the dressage world by storm in 2010 and you'll see a lot of his moves mirrored in Tina Humphrey's routine. He's the real deal and is absolutely breathtaking!!



.


.

Pretty in Pink: I swore I wasn't going to go pink, but that was the only color I could get her a hat in, that fit (her little white head burns easily). Once I crossed that threshold, I felt compelled to get a matching collar and cooler blanket.<g>
Left & right: at '09 SDTC picnic / Middle: stuff purchased at the Aug. '09 SDTC Obed/Rally Trial, Ballston Lake, NY.

Le French Artiste: The winning costume at the 2009 Alplaus Fun Show
Left, posterized / right: waiting for her cookie.

Tu-tu Cute! Lacy as a ballerina at Saratoga Dance. Photo by Katie.
Le Beatnik: The beret and bandana have more than one use...
Just chillin': at the SDTC 2012 Obedience/Rally trial in Ballston Spa, NY
Très Chic AND Versatile! Reversible custom coat by Victorian Dogs (above and below) - All beautiful, breathable, pre-washed fine wool (except for the black belt). I asked for the belts to be removable, to cut down on the fabric layers.
..



.
Countryside & Small Stock Journal: Vol. 91, # 6, Nov/Dec 2007
Introduction to the Treeing Feist: A squirrel dog breed history, by Marcus B. Gray
http://www.countrysidemag.com/
• Mentions Native American dog influence.
.


.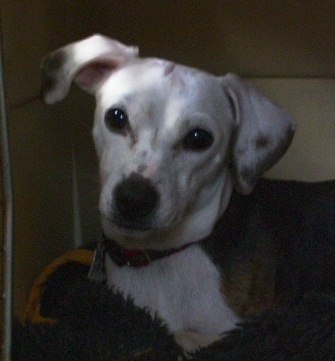 Bedtime in Lacy's den (crate).
If you'd like to find out more about Lacy, or have any comments, feel free to send mail.

To find out about my harping activities, click here.

In memory of Molly, our sweet little Pit-girl, click here.
I haven't been able to bring myself to close her story just yet, so it reads like she's still around.

In memory of Shasta, a lovely Morgan mare, click here.
A poem written for three canine companions (Shenan, Kelly and Cindy) and Shasta is posted there. If you've lost a special companion, I hope you find comfort in it.

And, don't forget to check out my Art Gallery Site. There's a lovely German Shepherd Dog portrait, among others.
.
.


.
This page is dedicated with love to Molly, Cindy, Luke and all those that came before them
.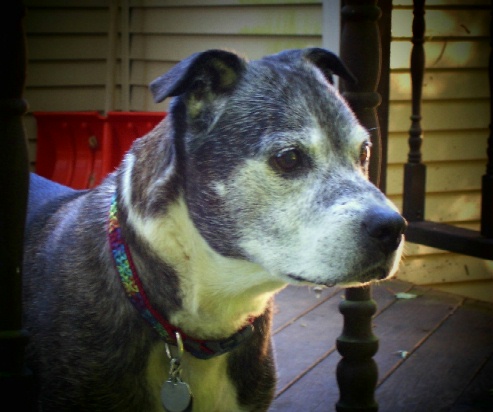 Molly - She taught us much about patience & the power of positive reinforcement
| | |
| --- | --- |
| Cindy - A gift even without the bows. | Luke - We miss him...issues and all. |
Molly Mae, Cindy Lu & Luke
...Iko, Kelly, Shenan, Honey, Ginger, Joey & Princess

Created 12/16/07
Updated 6/22/13
.